---
Chapter I -- The Facts
---

Cindy Crawford is the second of three girls and four children. Her parents, Daniel and Jennifer, are now divorced. Younger brother Jeff died of leukemia when he was 4, and young Cindy was 8. Older sister, Chris, has always lived in the Chicago area and is a teacher. Younger sister Danielle has worked in the Peace Corps and worked most recently as production assistant on Cindy's film "Fair Game", in which she also appears as a waitress. She now works on a dude ranch in Colorado. Before becoming a megamodel, Cindy detasselled corn, won a chemical engineering scholarship, and scored perfectly on her college calculus exams. She graduated Valedictorian of DeKalb High with a 4.0 average, then went on to attend Northwestern University for one semester.

Cindy Crawford's life is the classic rags-to-riches tale. Well, almost. No overnight sensation, it was rags, or rather the clothing trade, that brought her to the rather lofty financial level of the highest paid and probably single most widely recognized supermodel, commanding somewhere in the neighborhood of six to nine million dollars last year alone.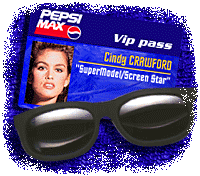 Cindy was the spokesperson for Pepsi Max for a while, and her commercial introducing Pepsi's new look was a finalist for Advertising Age's "The Best Awards 1991". Her picture has graced the covers of over four hundred major international magazines. As the host of MTV's "House of Style", satellites beam Cindy and her world of fashion to the farthest reaches of the globe. Celebrating its Fifth Anniversary this year, "House of Style" remains one of the most popular shows on MTV. Cindy hosted her first special for the network which featured a behind-the-scenes look at "Melrose Place", "Saturday Night Live", and the White House as well as interviews with Shaquille O'Neal and Rosie O'Donnell. She has also done at least four calendars (including a new for 1996) and half the profits (I believe) go towards fighting leukemia. She has also put out two exercise videos, had a three year $3 million contract with Revlon, appeared in print ads for JH Collectables and Capezio Bags, and also in a series of lingerie posters for Hennes & Mauritz in Europe. The Norway police was forced to tear many of them down because they feared drivers were being too distracted. She is also the jewelry fashion spokesmodel for Kay Jewelers, part of the Sterling family of fine jewelry stores, which will launch a signature collection bearing her name soon. She has said she feels too old for runway modeling, and wishes to cut back to part-time modelling.

When she was first starting out, Cindy was called "Baby Gia" after now dead Gia Carangi, the main difference being that Cindy was wholesome and Gia died from her lifestyle. The resemblence between them in the early years is uncanny.

Cindy appeared topless in the July 1988 issue of "Playboy". Quote: "I don't mind if someone thinks a picture of me decorates their wall nicely. It's weird when you think what people might be doing to it. But if just the way I look can make someone feel good, that's a pretty easy way for me to bring them some pleasure. I just don't want to hear about graphic details, you know."

Cindy was married to actor Richard Gere in December 1991 at the Little Church of the West in Las Vegas by Rev. Wes McPherson. They using wedding bands twisted from chewing gum wrappers. Cindy said, during an interview, they planned on having a child soon, but those plans are now, of course, cancelled. Cindy is frequently rumored to be bisexual and having an affair with Christy Turlington. In 1991, they were photographed while kissing behind the Roxy nightclub in New York. The rumors have intensified since Cindy appeared on the cover of "Vanity Fair" shaving k.d. lang, a confirmed lesbian. On May 6th, 1994, the London Times published a full page advertisement in which Cindy and Richard Gere proclaimed: "We are heterosexual and monogamous and take our commitment to each other very seriously." It cost them $30,000. She has now broken up with Richard Gere.

The move to producing came for Cindy in 1992 with the highly successful "Cindy Crawford/Shape Your Body Workout". In addition to starring in the exercise video, which she developed with personal trainer Radu, Cindy also served as an executive producer. Topping Billboard's Health and Fitness charts since its debut in October 1992, the video has sold more than 2 million copies in the United States alone. Amazed at the overwhelming response to the workout tape, Cindy and Radu did it again with a follow-up release entitled "The Next Challenge". No surprise, true to form, this tape also became a winner. The video is comprised of one complete workout program that features a "cross-training" approach to total body workout rather than the "circuit training" approach of the first video.

The same company that made the previous 4 calendars brought out the Cindy Crawford 1994 European Edition Calendar which has various pics taken from her last four calendars. Also, there is another calendar produced by an English firm which is of fairly poor quality (its only 12 months while the European Edition has 16 months). The Cindy Crawford 1996 Calendar by Culture Shock has a 12 month calendar. There are no swimsuit shots, just great photos of Cindy being gorgeous. ...A couple of face profiles, Cindy dressed up, Cindy in a towel... There are two B&W photos while the rest are in color. All the pictures are new except for her classic "Playboy" shot (Cindy holding her breasts) and one runway shot which has appeared on the Internet before. If you're after the calendar but can't find it (try any specialty store or a place that sells calendars), then the address of the company is:
        Culture Shock
        16/18 Wimbledon Stadium
        Business Centre
        Riverside Road
        London, UK
        Telephone: 081-879-3949



In 1992, Cindy hosted two specials for Fox TV: "Concert for Life", dedicated to the memory of Freddie Mercury and broadcast live from Wembley Stadium, and "Stuntwomen World Tour '92", an exciting look at Hollywood's stuntwomen.

Cindy was the featured guest star on Jim Hinson's "Muppets Tonight!" in an April, 1996 episode which was part of the show's first season. In this episode, Bobo the security guard develops a crush on guest Cindy Crawford, who recalls her days as a 14-year-old "Frog-i-teer" and sings "I Remember it Well" with Kermit. The show airs on the Disney Channel.

Cindy has apartments in New York City and Bel Air, California, has cottages in Westchester, New York, and a beach house in Malibu. She lives in the same New York City building as Linda Evangelista, Christy Turlington, and Winona Ryder. Dividing her time between New York and Los Angeles, Cindy Crawford is hard at work building her career from coast to coast when she's not starring in major motion pictures.
---
Chapter II -- What's New
---

Cindy appeared in a 14-page layout of all new nude photographs in the October, 1998 issue of "Playboy". The layout includes 10 photos, 4 of which are B&W, the others color. The pictures were taken by Herb Ritts, the same photographer who shot Cindy for her first appearance in "Playboy" 10 years earlier. In this issue Cindy explains, "Herb and I both loved the first Playboy shoot, and we had such a great experience that there was no reason not to do it again." Quote: "People have to compartmentalize me. They can't deal with a woman who has a serious career taking off her clothes and being sexy." When ask if she would be willing to pose for "Playboy" in, say, another 10 years, Cindy says, "Who knows where I'll be ten years from now, and what I'll look like. But, if Herb will still shoot me, I would love to do this again."

Cindy hosted "Sex with Cindy Crawford" on ABC. The hour-long special aired on September 22nd, 1998 and explored sex in America. Cindy discussed such topics as Monica Lewinsky, topless sunbathing, sex on the Internet, sex and the media, and her personal turn-ons. The special is the first in a series of specials that Cindy will be doing for ABC over the next three years. Peter Stuart, a prominent British producer of European television, says Cindy and her agent stole his idea for a series of specials on pop culture staring Cindy. Mr. Stuart claims that Cindy and the William Morris Agency signed a joint-venture agreement with him in 1997 that had him co-producing the series. Mr. Stuart alleges that he was then cut out of the deal when the TV special was shopped to the networks. Cindy hasn't commented on the lawsuit.
---
Chapter III -- The Rumors
---

Cindy and lesbian k.d. lang were spotted in a San Francisco night club dancing and drinking. I guess some guy tried to cut in and dance with Cindy while she was dancing with k.d. Well, k.d. being the man of the two, she belted the guy and dropped him. They then went back to dancing.

From a recent issue of Esquire (not the issue shown)... It has Cindy Crawford as their "New Varga Girl". "The New Varga Girl" is a series of pin-up pictures in the 50's or something and now they take today's supermodels and have them re-create poses. Past ones include Vendela, Angie Everhart, and Tyra Banks.

She has recently been linked to the newly separated Val Kilmer.

Cindy will have a lead role on "Baywatch", which is scheduled to become a movie.

John Casablancas of Elite modeling agency was not a happy camper after he read Cindy Crawford's explanation in the "New York Post" of why she left Elite. Cindy said that Elite was "double dipping" her commissions, and she felt that constituted a conflict of interest. John said, "La Crawford is misrepresenting the situation, and the famous beauty led us down the garden path -- or the catwalk, as it were." Casablancas says that "All model agencies around the world charge what your article described as 'double dipping' -- with the full knowledge and consent of their models and, without having anyone accuse us of 'conflict of interest'. This is an open and legal practice... At one point, she decided she no longer wanted to pay such commissions and regardless of what we had done to bring her to the top, she wanted to deal with us as if we were recently met theatrical agents who had nothing to do with the construction of her career. What Cindy basically said was this: 'If you want the privilege of representing me and to avoid the embarrassment of losing me, you have to reduce your take by 60 percent; take it or leave it.' We decided to leave it, and she was gone." But Casablancas also says that if Cindy would "come down off her high horse and make us a reasonable offer," Elite would love to have her back.
---
Chapter V -- Cindy Crawford and Richard Gere
---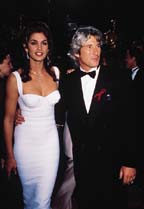 Married In: 1991
Bitterness Factor:  (out of a maximum possible of 5)


What Went Wrong: In spring 1994, they managed to collaborate on the now-famous ad in "The Times" of London denying rumors that they were gay -- but the marriage was already in trouble. "We didn't spend enough time together," Cindy said earlier this year, "and we're equally responsible for that. We thought it would be okay if we just flew in from Paris to L.A. to get together for a night to see each other. It wasn't." Gere isn't commenting.

What Friends Say Went Wrong: They had very different priorities. Gere, 46, is a devout Buddhist. Crawford, 29, working on becoming more than a supermodel, is much more career-oriented. "He's spiritual," says photographer-pal Herb Ritts. "Cindy gave it a try, but she's not into eating yak butter."

Where Are They Now: Crawford lives in their $1.9 million Malibu house and says she's not dating, although she visited Val Kilmer twice in Australia in September 1995 on the set of "The Island of Dr. Moreau", and she has been rumored to keep company off and on with restaurateur Rande Gerber. Gere has been seen with a Swedish woman and before that British model, Laura Bailey, 23. His lavish West Coast place is near Cindy's.
---
Chapter VI -- The Look, The Style, The Cindy!
---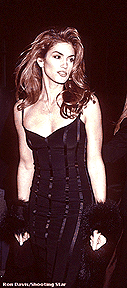 "You could probably put a Hefty bag on her, cinch it at the waist, and she'd look good," says Melrose Place costumer Denise Wingate. "Fan-tastic!", exclaims RuPaul of the clingy Herve Leger dress that Crawford donned for the MTV Movie Awards in L.A. last June. "It makes the curves she has all the more dangerous." And TV talker Rolonda says, "I even love that Barbarella look." Says John Henson of Cindy in outfits like the leather dress she wore to a New York City party last October: "She's just a perfect clothes hanger."
"Really slick," says Rolonda, eyeing Cindy in pants at the "Batman Forever" premiere in June 1995. "You can't get better than this," says RuPaul of Cindy's ribbed number at a Revlon L.A. affair in December 1995.
"I like it when women dress down," says John Henson of Cindy's jeans 'n' leather at a November Rolling Stones concert. "You can eat a burrito with your hands in front of this girl."
Says RuPaul of Cindy all glammed up at the Blockbuster Awards in June: "Why not wear a color that says, 'I'm a star'?" It would make Henson clean up fast. "If that were my date, I'd be, 'Don't move!'", he says. "You'd want to put her on a pedestal."